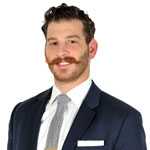 Joseph S. Fritzson graduated from the State University of New York University at Buffalo in 2012, where he majored in and received a Bachelor of Arts degree in Economics. Mr. Fritzson went on to attended Touro Law School Jacob D. Fuchsberg Law Center where he graduated Cum Laude in 2014. While at Touro, Mr. Fritzson attended the Business College of Management School at Long Island University Post, allowing him to obtain a Master of Business Administration Degree in 2014, along with his Juris Doctor from Touro. During his time obtaining a joint J.D./M.B.A. degree Mr. Fritzson's studies focused on Business Law.
While in law school, Mr. Fritzson worked with the Unemployment Action Center under a student order, where he represented various individuals whom were wrongfully denied their Unemployment Benefits by the State of New York. As well, Mr. Fritzson had the privilege of clerking for the Honorable Judge Leonard D. Wexler in Federal Court for the Eastern District of New York.
Mr. Fritzson handles matters involving general liability, premises liability, workers compensation, product liability, automobile liability, condominium/community association liability, dram shop/liquor liability, employment law, contract law, and general negligence for insurance carriers, retail corporations and municipal entities, in New York and New Jersey, State and Federal Courts. As a young attorney he also has experience in all aspects of litigation including conducting depositions, discovery, motions, appeals, court conferences, mediations, arbitrations, as well as small claims trials in New York State Courts. Prior to joining Sobel Pevzner, LLC, Mr. Fritzson was an associate attorney on Long Island at Bruno, Gerbino, & Soriano, LLP., where he primarily handled all aspects of No-Fault litigation including mediations, arbitrations, oral argument, and bench trials.
Mr. Fritzson was admitted to the Bar of the States of New York and New Jersey in 2015. He is also admitted to the United States District Court for the Eastern and Southern District of New York and Federal District Court in New Jersey. Mr. Fritzson is also a member of the New York State Trial Lawyers Bar Association, as well as the New York and New Jersey State Bar Association.